Portabello, Baby! Burgers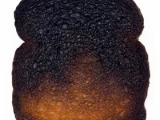 Loosely based on a favorite menu item I order at a local restaurant. Sourdough bread or focaccia can be substituted for the hamburger buns if you wish. The portabellas can also be grilled if you want. Update 01-25-08 Try this for marinating the mushrooms:Pomegranate Teriyaki Sauce
Directions
Marinate the mushrooms in the teriyaki sauce.
For best results, marinate at least 3 hours.
Sautè the mushrooms on medium heat until softened but still slightly firm.
Season with black pepper to taste.
Transfer mushrooms to warmed buns and top with remaining ingredients.
I usually serve the burgers with a tossed Romaine lettuce salad and fresh fruit in season.