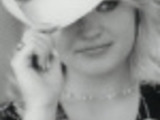 Fancy enough for company, easy enough for everyday. Can even be made ahead! Really impress them! Make them with a FLARE! You can even do these outside on the GRILL! Yummy with fresh Texas Peaches! Created by me from a much more complicated recipe found in a French cookbook.
Directions
Drain peach halves and pat dry a little bit with a paper towel.
Mix flour, sugar and cinnamon together.
Turn peach halves in flour mixture and spray with butter flavored cooking spray to moisten flour.
Store in refrigerator until ready to cook.
Just before serving broil in oven just until crisp looking. About 3-4 minutes when about 3" under preheated broiler.
For FLARE! pour a little bourbon or brandy over the top AFTER they are plated. Ignite the alcohol CAREFULLY - impressive!